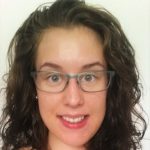 As she is now embarking on a Master's degree, I interviewed Paulina Marczak (former Geothink student) to reflect on her four month co-op with Geothink partner, Open North.
What have you been up to since your internship at Open North?
After Open North, I did another co-op in the fall term with Dr. Derek Robinson under an NSERC USRA [Natural Sciences and Engineering Resource Council Undergraduate Student Research Award] grant, where I looked at variations in aboveground vegetative carbon storage across different spatial resolutions within Southwestern Ontario.
I just finished my undergraduate degree at the University of Waterloo. My undergraduate thesis looked at landscape configurations with wetlands in the boreal plains and asked: Is there a relationship between geology and wetland landscape configuration?
Right now I have just begun pursuing a Master's degree in Geography at Queen's University in Kingston. So I went into another sub-field still related to geography, but diverging from open data.
Your work in open data and open government are quite removed from your current course
Yes. I wanted to go into climate change after my undergrad, particularly through GIS and remote sensing. However, this summer I had the opportunity to work for the Canadian Open Data Exchange (ODX) and got to help develop their plans for commercialization of open data. They wanted someone who understood the value of open data.
What do you think you got out of your time at Open North?
I learned a lot. I started out from zero experience with open data. You know, it's easy to fall down the rabbit hole of open data and explore one particular aspect of it, like metadata, without even touching another aspect Being able to co-author white papers that contribute to a global-scale initiative, and interview people from around the world, that was a really valuable and unique experience.
What was it like working for a non-profit?
James, Stéphane, and everyone at Open North were really great. It was different because all my previous co-ops were in government, federal and municipal. They were very structured. Open North was smaller, and it required you to be more. They want you to be a part of that team. They make you feel like you are a critical component of the team, not to mention the valuable mentorship they provide. Infomediaries, they prod governments, they speak on behalf of and give a voice to the people. That's why I think their work is impactful. Working at Open North also gave me the opportunity to attend the Canadian Open Data Summit 2015 in Ottawa, where I got to meet various members of the open data community and speak to panelists.
What skills did you bring from Open North to your current position?
Being able to critically research, and experience with technologies such as APIs and R (statistical software). Most important is writing. At Open North I learned to write on a deadline, such as our OGP [Open Government Partnership] white papers, and I also learned about academic writing from Professor Renee Sieber.
It's been interesting as a new Master's student. I was talking to a librarian here in Kingston and they were interested in the idea of open data, but were surprisingly satisfied with the very restrictive data agreements that are currently in place…there is more work to be done on the advocacy side. On the other hand, I was able to talk to the City of Kingston and they are about to roll out a new open data initiative, per Council approval. From my interactions with the librarian, I realized that I could talk about this topic now and I had some idea of how things should be done. In fact, they were looking to me for advice, which was a new milestone for me.
It sounds like you may be interested in advocating for open data in your new environment?
Sure. I can talk about it, but I don't feel I have the capacity and knowledge to spearhead it. But I do feel it is my responsibility to inform people if they don't know what open data is or want to learn about some of current issues surrounding open data these days.
Do you feel more confident in talking about open data now?
Yes, but I don't feel like I'm the expert. I feel like I'm an apprentice. Constantly learning.