Smart cities, Internet of Things (IoT), and sensored public space are rearticulating the opportunities and challenges of civic life. Emerging network technologies and critical infrastructures are reshaping public space, governance, and citizen participation. The private-sector development of what have been called smart communities – such as Waterfront Toronto's Sidewalk Labs (a Google sister company) is a recent example of the need to address new challenges posed to residents and municipal governments. Particularly significant are issues of data collection, use, privacy and ownership. Smart communities also bring into question how accompanying notions of 'urban intelligence' and changing spatial reasoning to navigate them now structure our understanding and expectation of what an 'ideal' city can be.
On Wednesday, February 7 at 12:00-1:15 (EST), Geothink.ca held its sixth monthly Geothink&Learn video conference session on the topic of public participation and urban intelligence. It highlighted Geothink's unique interdisciplinary perspective and included a myriad of ideas from our faculty, students and partners.

This panel brought together academic, non-profit and municipal experts in the fields of smart cities, open data, urban planning and geomatics to discuss central questions which will potentially shape the extent to which smart communities can serve and respond to public interest.
The convener for the session was Geothink Co-Applicant Pamela Robinson, associate professor in Ryerson University's School of Urban and Regional Planning and the associate dean for Graduate Studies and Strategic Services. Speakers included Bianca Wylie, the head of the Open Data Institute Toronto – a node of the United Kingdom Open Data Institute; Stéphane Guidoin, open data chief advisor in Montreal's Smart and Digital City Office; and, Stéphane Roche, professor in University Laval's Department of Geomatics.
A question and answer session followed after presentations concluded. Our five panelists briefly introduced their research and then reflected on the role of public participation and urban intelligence.
---
This Geothink&Learn has now concluded. Please download a copy of each of our presenter's slide presentations below.
Stéphane Roche – Urban Place Intelligence: Spatial Thinking and Digital Citizenship.
Bianca Wylie – Geothink&Learn Urban Intelligence and Public Participation
---
Download a PDF of this event to share.
When:
Wednesday, February 7, 2018 at 12:00 PM [NOW CONCLUDED]
Where:
https://zoom.us/webinar/register/WN_dP3sskY7SYmjxWuYBhqaow
After registering, you will receive a confirmation email containing information about joining the webinar.
Convener:
Pamela Robinson
Moderator:
Sonja Solomun
Panelists: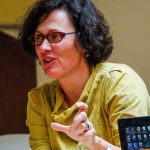 Pamela Robinson: Pamela Robinson (MCIP, RPP) is a Geothink co-applicant working on urban sustainability issues with a particular focus on cities and the use of open data and civic technology to support open government transformations. She is the associate dean, graduate studies and strategic initiatives at the Faculty of Community Services and an associate professor in the School of Urban and Regional Planning at Ryerson. She is also a registered professional planner. Robinson is an editor of Urban Sustainability: Reconnecting Space and Place (University of Toronto Press, 2013), Teaching as Scholarship: Preparing Students for Professional Practice in Community Services (WLU Press, 2016) and is a columnist for Spacing magazine.

Bianca Wylie: Bianca is an open government advocate with a dual background in technology and public engagement.  She leads work on public sector technology policy for Canada at Dgen Network and is the co-founder of Tech Reset Canada. She worked for several years in the tech sector in operations, infrastructure, corporate training, and product management, most recently at Thomson Reuters. As a facilitator at Swerhun Inc., she designed, delivered and supported public consultation processes for various governments and government agencies. In 2014, Bianca founded the Open Data Institute Toronto.  She is a columnist, guest lecturer, and speaker on open government and public sector technology policy.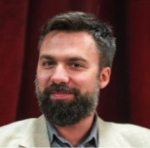 Stéphane Guidoin: Stéphane Guidoin is a Geothink partner and acting director of the smart and digital office of Montréal since June 2017. Previously responsible for open data, he led to the implementation of an "open by default" policy adopted in December 2015. With a strong will of collaboration and transparency, he works with a team of experts in order to accompany the city's digital shift, as outlined in the Smart City and Digital 2015-2017 Action Plan. In 2016, Montreal was the recipient of the prestigious Intelligent Community of the Year award from the ICF (Intelligent Community Forum).

Stéphane Roche: Stephane Roche is a Geothink co-applicant, engineer and professor of geomatics and vice-dean of research at the Faculty of Forestry, Geography and Geomatics at Laval University, Quebec, where he teaches GIS and spatial analysis. His research focuses on the role of social geolocation, open data and crowdsourcing in relation to smart cities. He is also interested in the skills and spatial reasoning in emergent forms of urban intelligence.