By Suthee Sangiambut
This past February, we had the pleasure of viewing new research from Geothink academics and students at the Spatial Knowledge and Information (SKI) Canada conference in Banff, Alberta. This two-day conference is special as it addresses a variety of issues ranging from Geographic Information Systems (GIS) techniques and tool-building to applied spatial statistics, particularly in the context of Canadian social issues.
Geothink Head, Dr. Renee Sieber, delivered the keynote address. She spoke on the "10 Things You Should Know About Engagement, Volunteerism, and Participation in Geospatial Technologies" and gave insights on how social theory and geospatial technologies coexist. She cautioned against treating technology as a black box and taking technical tools for granted, particularly if we do not completely understand them. Application of technology does not necessarily result in more or better participation. This is one of the potential issues of the drive towards data-driven decision making, particularly if we dispense with processes of democratic participation.
This year, Geothink co-applicant Dr. Scott Bell (University of Saskatchewan) presented findings on Local patterns of national household survey non-response in Canadian cities. He highlighted methodological issues with government collection of census data, such as the Global Non-response Rate (GNR) variable. Some cities which are very small but with a high GNR can be excluded from the final results due to issues of spatial autocorrelation and edge effects. City growth is also problematic for normalising census data to make comparisons, particularly when different divisions grow at different rates. Dr. Bell's research team developed a variety of models to predict non-response and found correlations of non-response rates with other social variables such as whether the respondent was a renter or aboriginal in origin.
Geothink student Lauren Arnold (University of British Columbia Okanagan) spoke of The Potential Role of Open Data for Public Engagement in Environmental Assessment. Environmental assessments are highly dependent on spatial analysis and require datasets at very large spatial and temporal scales to calculate and predict cumulative effects of actions for the environment, society, and economy. Open data has the potential to address issues of public participation in environmental assessments and bring in more citizen involvement, improve transparency, and potentially even decision-making. Contextualising open data within Public Participation GIS (PPGIS), Arnold argued that open data can be another catalyst for integration of PPGIS into public consultation and decision-making processes.
Suthee Sangiambut (McGill University) presented an alternative view of his Master's research findings. Looking at open data flow in civic apps, he noted that data undergoes transformations within government, at the developer, and in between. Data transformations are often done outside of government by data re-users, but the choices government makes in how it collects or distributes data will affect data reuse down the line. He also demonstrated that open data consumed through apps are not an exact one-to-one representation of data used in government and users should be aware that open data still represents a curation of sorts.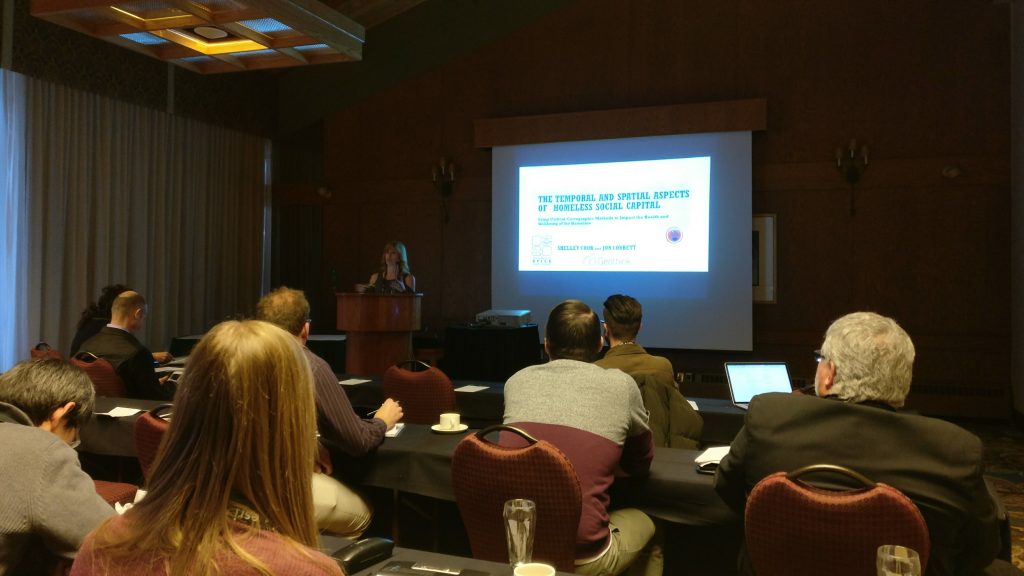 Shelley Cook (University of British Columbia Okanagan) won joint first prize for student presentations. She presented on The Temporal and Spatial Aspects of Homeless Social Capital and gave an in-depth look at how homeless is controlled by legislative and spatial tools, such as 'red zones', in Kelowna, BC. She found that the size of a homeless person's geographic footprint (their coverage of the city) is related to their social capital; smaller activity spaces allow for less social capital. Homeless geographic footprint is also inversely related to dependency on services. However, once the homeless are provided housing, their geographic footprint shrinks.
Finally, Brennan Field (University of Saskatchewan) presented on Policy Mobility of Police Interactions Open-Data. Such policies cover data collected on police interactions with the public such as vehicle stops and fines. His research will look at how these data policies are spread across jurisdictions and departments, and how they are translated to the operational level.
This 5-9 April 2017, Geothinkers will be at the American Association of Geographers (AAG) annual meeting in Boston. For a list of presentations and panels to attend, see the programme guide here. We will be tweeting for the duration of the conference on Twitter (@geothinkca).